Shirahama/Kinan highlights
Shirahama/Kinan highlights
Shirahama and the Kinan region are chock full of things to see, including gorgeous ocean and beaches, healing hot springs, breathtaking natural scenery, and majestic animals. Fresh seafood and other gourmet delights are just a few of the pleasures that will make for a memorable trip.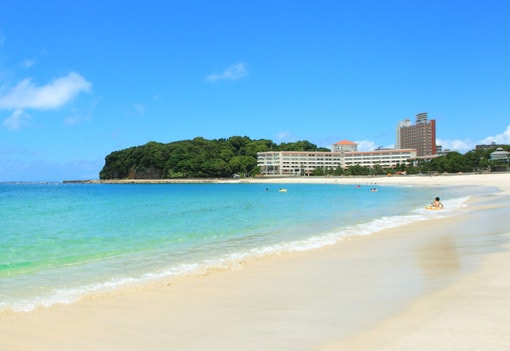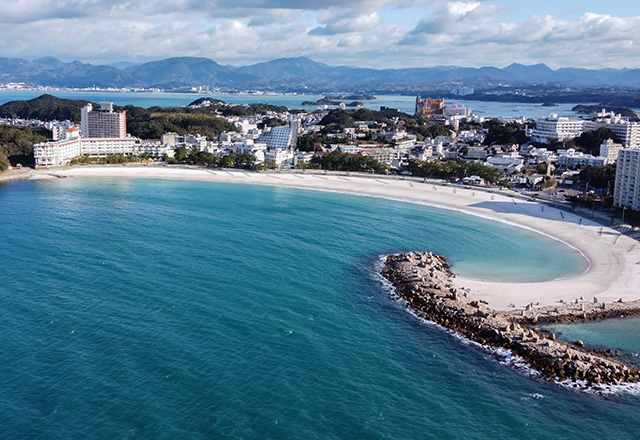 Shirarahama
Shirarahama is a "sister beach" of Waikiki in Hawaii. The 620-meter stretch of fine white sand is one of Kansai's most beautiful beaches. It also hosts many events, such as the Sand Festival and massive fireworks displays.
Short walk from Shirarahama bus stop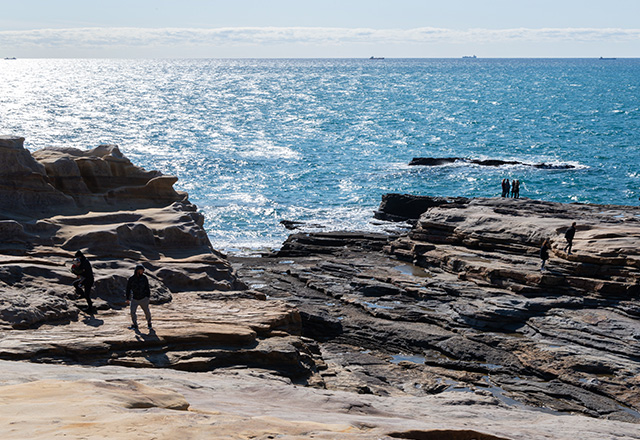 Senjojiki
Senjojiki means "1,000 tatami mats," named so because it looks like an expansive plateau of stone mats. Formed by erosion from the crashing waves of the Pacific Ocean, this natural wonder is a great place to catch a stunning view of the sunset.
5 min. walk from Senjo-guchi bus stop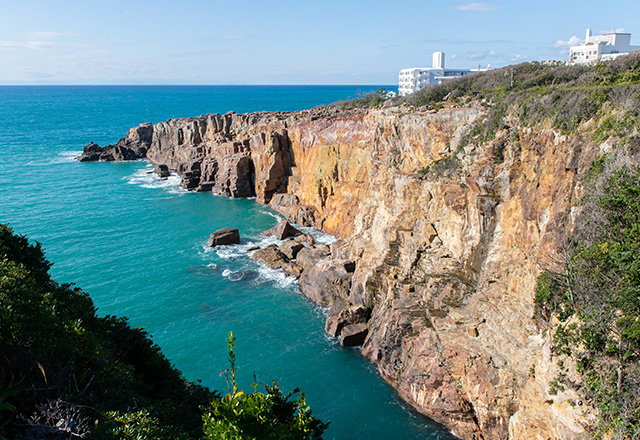 Sandanbeki
These 50-to-60-meter-high cliffs stretch about two kilometers from north to south and feature an observation deck with breathtaking views. Kumano pirates of days gone by are reputed to have hidden their boats in the Sandanbeki cave, where you can experience the spray of the ocean in your face. (Entrance fee required for cave.)
5 min. walk from Sandanbeki bus stop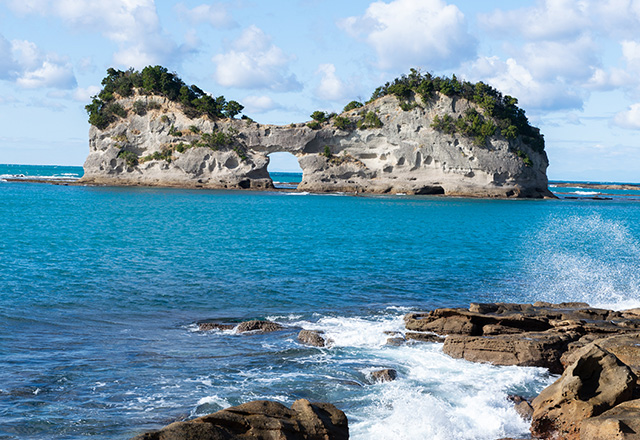 Engetsuto
Officially called Takashima, this islet goes by the name Engetsuto because of a hole shaped like a full moon (engetsu) in its center. Around the time of the spring and autumn equinox, the setting sun briefly appears directly inside this hole.
5 min. walk from Rinkai bus stop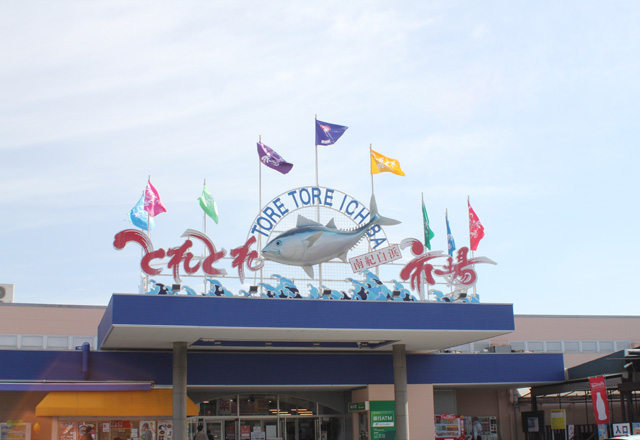 Toretore Ichiba Market
Run by the local Katata Fisheries Cooperative, this is one of the largest fish markets in western Japan. Visitors can buy fresh seafood from Wakayama and all over Japan, and eat at restaurants or semi-open-air barbecue facilities.
Short walk from Toretore Ichiba bus stop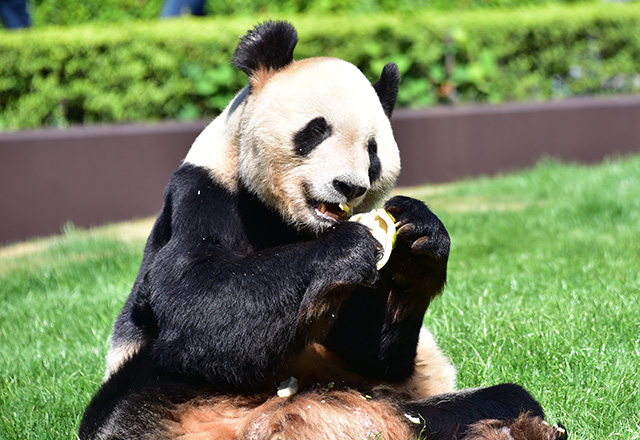 Adventure World
Adventure World has raised more giant pandas than anywhere else in Japan. It also offers other ways to experience wildlife up close, including Safari World with its array of land animals and Marine World with its sea creature performances.
Short walk from Adventure World bus stop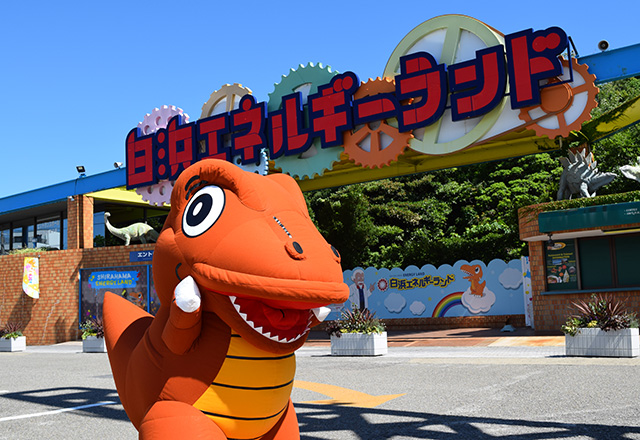 Shirahama Energy Land
This hands-on theme park is all about our relation to the natural energy and phenomena that surround us. Visitors of all ages—from children to seniors—are sure to enjoy the many play-as-you-learn attractions.
2 min. walk from Shirarahama bus stop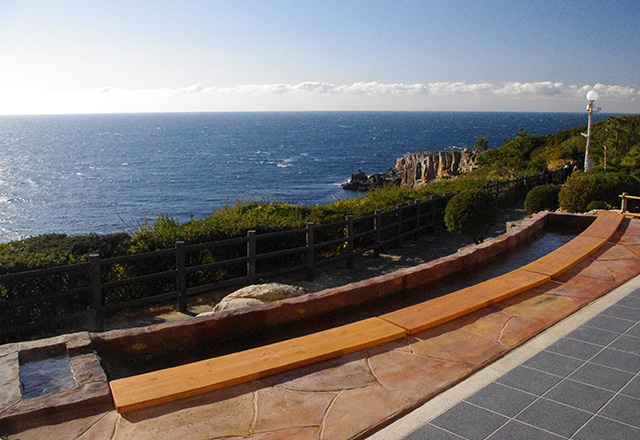 Foot baths
Foot baths can be found throughout Shirahama. Soothe your feet while enjoying natural surroundings, whether it's a view of Engetsuto from the Mifune Foot Bath, or Shirarahama beach from the Shirasuna Foot Bath.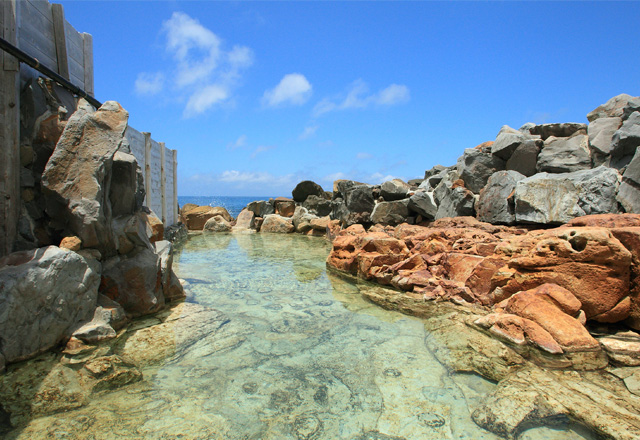 Saki-no-yu Hot Spring
This was one of the seven hot springs of what used to be called the Seven Hot Springs of Yuzaki. It's the oldest bath of all those in Shirahama, whose history goes back 1,350 years. Soak in the soothing waters while enjoying the sound of the rolling waves and the scent of the salt air.
5 min. walk from Yuzaki bus stop