Tokyo
YCAT (Yokohama Sta.) / Shinjuku Expressway Bus Terminal / Ikebukuro Sta. (East Exit) / Omiya Sta. (West Exit)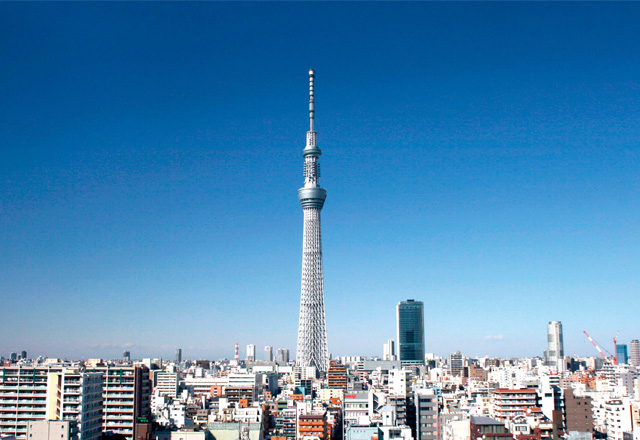 Night express buses to Tokyo,

Yokohama, Shinjuku, and Omiya


Prices starting at 8,400 yen

(from Yokohama)

Free Wi-Fi*
Mobile device charging outlets
For Docomo, au, and SoftBank phones. Only on Meiko buses.
Transfer at Yokohama Station to take a bus directly to Tokyo Disneyland.
Timetables (revised June 1, 2020)
Shirahama/Tanabe ↔ Tokyo/Yokohama/Omiya timetable
Bus 2
Bus stop name
Bus 1
19:16
↓
Nanki-Shirahama Airport
↑
8:10
19:25
↓
Shin-Yuzaki
↑
8:01
19:30
↓
Shirahama Bus Center

↑

7:56
19:37
↓
Toretore Ichiba

↑

7:49
19:41
↓
Takinai

↑

7:45
19:50
↓
Tsuburizaka

↑

7:36
20:00
↓
Tanabe Station
↑
7:30
20:04
↓
Tanabe City Hall

↑

7:26
20:13
↓
Haya Station

↑

7:17
20:23
↓
Minabe Town Hall

↑

7:07
20:33
↓
Inami
↑
6:57
20:50
↓
Gobo Interchange

↑

6:44
21:11
↓
Fujinami Station

↑

6:23
21:26
↓
Kainan Station
↑
6:09
21:38
↓
Highway Wakayama (Narukami)

↑

5:57
↓
↑
5:27
↓
YCAT (Yokohama Station)
↑
22:10
6:24
↓
Shinjuku Expressway Bus Terminal
↑
21:10
6:49
↓
Ikebukuro Station
↑
20:40
7:24
↓
Saitama Shintoshin Bus Terminal
↑
20:05
7:39
↓
Omiya Station
↑
19:45
7:49
↓
Seibu Bus Omiya Office
↑
19:35
Fares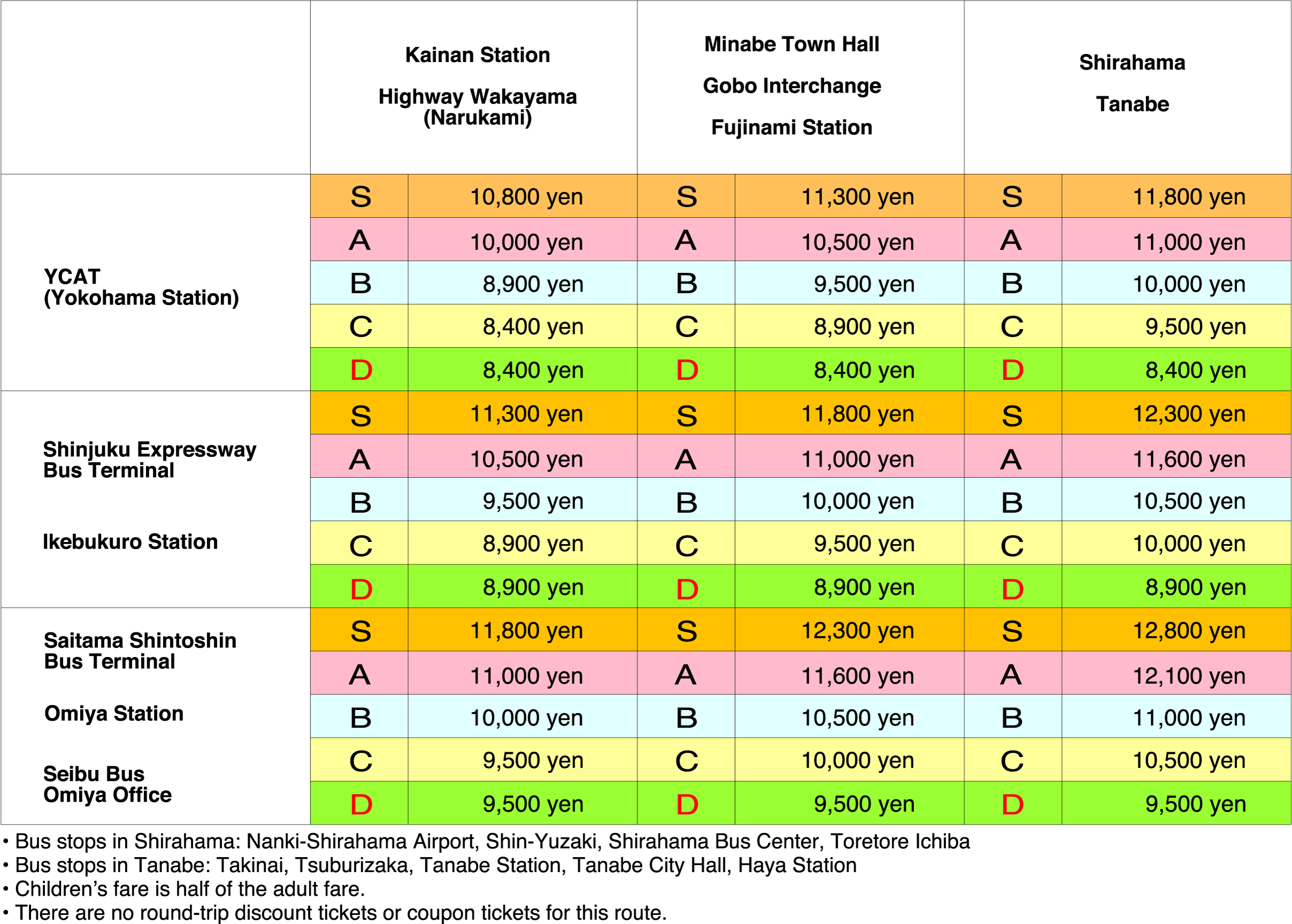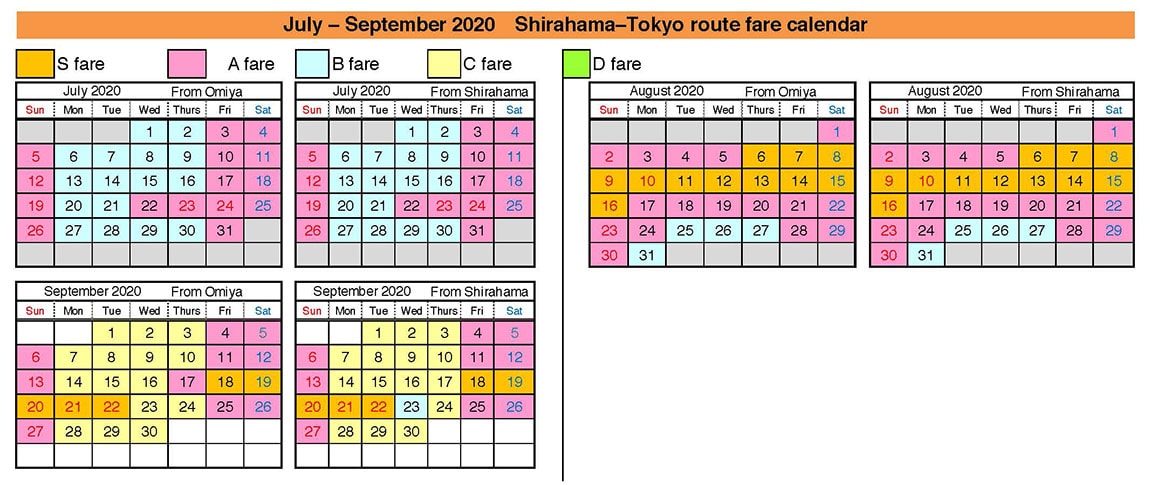 Bus stops
There is parking only at the following bus stops. Do not park illegally.
Shin-Yuzaki, Tanabe Station (pay parking), Tanabe City Hall (pay parking), Inami
Haya Station (in front of community center) (Several times a month, there may be no parking in front of the community center due to events.)
Discounts
No discounts currently available
Buying bus tickets
Reservations/inquiries by phone
| Reservation center | Phone number | Hours | Days off |
| --- | --- | --- | --- |
| Meiko Bus Reservation Center | 0739-33-7001 | 9:00–18:00 | None |
| Seibu Bus Information Center | 0570-025-258 | 9:30–17:00 | Sat., Sun., public holidays |
Bus stops selling tickets
Ticket seller
Hours
Days off
Tanabe Station Information Center
7:50–20:00
None
Meiko Bus Shirahama Office
9:00–17:00
None
Inami SA Shop
9:00–18:00
None
Seibu Intercity Bus Ikebukuro Ticket Information Desk
6:50–23:30
None
Omiya Station West Information Center
Weekdays:10:00–19:00
Sat., Sun., public holidays:10:00–18:00
None
Yokohama Station (YCAT)
9:30–18:00
None
To take a bus, make a reservation and purchase your ticket.
Reserving and issuing tickets at convenience stores
You can reserve and print out tickets at nationwide Lawson convenience stores (using in-store Loppi ticket machine) and Family Mart convenience stores (using in-store FamiPort ticket machine).
You can also print out tickets on these machines after booking by phone or Internet.
Buying tickets at Kinki Nippon Tourist, JTB, Nippon Travel Agency, and other major travel agencies
Tickets purchased using JTB HTA cannot be changed or refunded at convenience stores or bus companies. Contact the JTB HTA Sales Center for inquiries.
For tickets purchased using JTB HTA, you may not be able to make reservations or print tickets after the first bus departs.
Obtaining bus tickets
All seats are reserved. Purchase bus tickets in advance.
Reservations are accepted starting one month in advance of your travel date.
Children's fare is half of the adult fare.
Round-trip bus tickets are valid for 10 days after using the outward portion of the ticket. (Except on the Tokyo route)
After making a reservation by phone, buy your ticket at a Meiko Bus office, or at Lawson or Family Mart convenience stores.
After purchasing a ticket, you can change it once (before the ticket date and time) at a ticket counter.
Please keep the following in mind
Buses may get behind schedule due to traffic conditions on the day of travel.
You are responsible for your own valuables.
No smoking on the buses.
Please turn off your mobile phone or switch it to silent mode, and refrain from talking on the phone.
Only one piece of luggage per person is allowed. (Max. size: 1 meter for the total of the length, width, and height of the luggage, with the total weight not exceeding 10 kilograms and volume not exceeding 0.02 cubic meters.)
Regarding pets, dogs legally recognized as assistance dogs, seeing-eye dogs, and hearing-ear dogs may accompany their owners on the bus.

Animals other than these must be fully enclosed in a pet cage measuring about 90 centimeters for the total of the length, width, and height, with the total weight of pet and cage being no more than 10 kilograms.

Note that we cannot accept the following items as carry-on luggage or in the cargo space: medium-size and larger suitcases, skis, snowboards, regular and folding bicycles, etc.
If you plan to place infants or children on the bus without an adult, please consult Meiko Bus beforehand.
Express bus route name
White Beach Shuttle
Bus company
Meiko Bus
Seibu Kanko Bus
Voluntary insurance
Unlimited bodily injury liability insurance
Travel distance
Outward: 711 km
Return: 710 km
No. of drivers
2
Estimated duration
Shirahama → Omiya
12 hr 14 min
Tanabe → Shinjuku
10 hr 24 min